Curriculum
Programme for the development of academic skills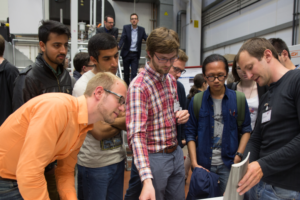 The priority of academic training is to prepare young researchers for cutting-edge research in their own field. Furthermore, cross-disciplinary work in CLINT requires the development of basic knowledge of 'foreign disciplines' and the establishment of a common language within the consortium. To reach these goals, different types of lectures will be offered to all young investigators, as appropriate for their individual backgrounds in chemistry, physics, chemical engineering, or beyond. The programme of CLINTiRTG will draw from the already established research training of the Erlangen Center for Interface Research and Catalysis (ECRC) and its Graduate Course Catalysis & Interfaces – Science & Engineering, which was restructured in 2019 to provide a systematic training in CLINT-related fields. Using this collaboration, we offer a CLINT specific training programme involving the following key components:
The Graduate Course

Training of basic knowledge related to all research fields present in CLINT. The course consists of weekly lectures (1.5 h) in the winter semester aiming at an interdisciplinary audience. It is open to all members of CLINT and interested researchers, but will be compulsory for all trainees. The lectures will be delivered by the PIs and senior members of CLINT as well as by guest experts in related fields. The first lecture series will cover the fundamental concepts associated with interface-related catalytic processes and will provide an overview of theoretical modelling approaches. This will be followed by a systematic introduction to key experimental techniques. Each lectures session will include an open-ended discussion among the participants and the PIs to provide feedback.
The Program of lecture series can be found here.
Compulsory training on data management
Due to the revolution in the acquisition of data and in the development of the protocols for their analysis, storage, usage and re-usage, data management is becoming a necessary skill for all trainees. Therefore, CLINTiRTG is introducing a compulsory training on data management strategies.
Master courses
CLINTiRTG members will be encouraged to attend lectures from the curriculum of master courses (also B.Sc., if necessary) in the disciplines involved in CLINT, including physical and technical chemistry, computational methods, thermodynamics, or (electro)catalysis. This might be particularly appropriate for younger doctoral researchers or trainees from different backgrounds to obtain a broader scientific foundation in the fields of their project partners.
Doctoral Researcher Workshop
This compulsory workshop covering the research areas of CLINT will be organised by the doctoral researchers themselves. Futhermore, it will serve as an informal platform to exchange ideas and results. It is expected to be a highly efficient measure to establish direct interdisciplinary communication structures between doctoral candidates.
Hands-on laboratory
Hands-on laboratory will be offered throughout the funding period and will focus either on theoretical approaches, technical skills, handling of scientific data, techniques or instruments, as presented in the introductory course. The sessions, organised by young researchers in very small groups, will take place in the laboratories of the host groups, in the CIP pool of the physics department or at HI ERN. The duration will vary with the topic, methods and the demands, yet typically, a session will be taking 4 to 6 hours. Both, participation and organisation of hands-on sessions will be accredited.
Methods Days
Methods Days will provide in-depth training on specific techniques and will be offered by the PIs and external experts. Methods Days are inspired by the highly successful workshops previously delivered within EAM (e.g. on transmission electron microscopy, X-ray scattering and atom probe tomography). The content will include state-of-the-art technology reviews underpinned with examples from CLINT research.
---
Soft Skills Program
CLINTiRTG aims to promote the next generation of leading catalysis experts in academia and industry. To provide top level soft skill training, CLINTiRTG will build on the established training principles of GS AMP and the capacities of the FAU GC.
Fostering Leadership and Organisational Skills
As early career academics, CLINTiRTG trainees will work as part of a team and will have to adopt different leadership roles, even outside of academia. Several measures are conceived to help young researchers to develop the necessary skills and account for this axis of training:
 Compulsory training on Good Scientific Practices.
To introduce transparency and secure clarity of professional standards, all trainees will be introduced to the rules of good scientific practice established at FAU and DFG. The course will be organised by CLINTiRTG.
Qualification courses.
A number of short courses on promoting leadership skills will be offered in collaboration with the FAU GC and GS AMP. The choice of the courses will be adjusted to the academic maturity of the young researcher and her/his future direction. Topics will include the developing of leadership style, guidance of a smaller team, or for more senior postdocs, courses on leading a research project. If required, workshops on postdoc-specific topics such as professorship appointments or recruitment in the private sector will be supported.
Academic self-administration.
Researchers are encouraged to take part in a broad spectrum of university bodies, hence, contributing first-hand to decision-making processes. This also includes participation in the CLINT Young Investigator Team, CLINTiRTG, and governing bodies of CLINT.
Establishing a leadership role through teaching.
Since classroom experience may be expected at later career steps, CLINTiRTG enables voluntary involvement in teaching and will provide the necessary associated training, with the help of the Fortbildungszentrum Hochschullehre.
Technical supervision.
As appropriate for their academic level, young researchers are encouraged to provide technical supervision to younger or less experienced members of the team (visitors in collaboration projects, undergraduates, or young researchers in the starting phase of their doctoral projects).
Research experience at large scale research facilities.
For a certain period of their training, young researchers may be involved in experiments at large scale research facilities and in the construction of advanced scientific setups.
Co-organisation and active participation.
Leadership skills is often developed through personal experiences. Therefore, all members of CLINTiRTG are strongly encouraged to contribute to the organisation of CLINT events, including training and networking activities.
Developing Entrepreneurial Skills
The technical applicability of the expected CLINT research outcome prompts us to place particular emphasis in CLINTiRTG on developing the entrepreneurial spirit of all trainees and their capacities to undertake first independent entrepreneurial steps. The following measures will be introduced:
Qualification courses.
CLINTiRG will offer a variety of courses covering topics such as technology transfer, intellectual property rights, patent law, and project management. These will be made available to all trainees, according to their training plan.
Project writing and/or management.
In selected cases, trainees will be encouraged to make their first independent steps in acquiring and governing third party funding or industrial projects.
Internship in an industrial R&D unit.
Following the trainee's own initiative, internships with industrial partners may be organised in agreement with her/his mentors.
Developing Social and Communication Skills
The capacity to successfully communicate within the working environment and to recognise the specificity of all team members is crucial for developing a progressive and stimulating working environment. Therefore, CLINTiRTG fosters this axis of training through the following measures:
Compulsory training on equal opportunities.
With the help of CLINT Equal Opportunities Team, the CLINTiRTG will offer a training programme consisting of lectures at annual retreats and workshops to discuss issues related to equal opportunities and diversity within CLINT. The training will involve specialised lectures given by external speakers, workshops, and round table discussions.
Qualification courses.
Building on the extensive experience within GS AMP, CLINTiRG will encourage doctoral researchers to participate in courses related to time management, presentation skills, writing strategies, but also preparation of job applications, as well as language courses.
Outreach contributions.
To introduce the trainees to scientific outreach, they will be encouraged to participate or co-organise social research communication events, including the Long Night of Science ('Lange Nacht der Wissenschaften') at FAU, and others.
Establishing a buddy system.
Arriving to a new institution may be a challenge for researchers of any age. CLINTiRTG will, with the support of the PI's group and the FAU Welcome Centre secure a buddy system that helps CLINT newcomers to adjust to their new environment. Moreover, trainees will establish a safety network for emergency cases.
The CLINT Networking Programme
Internal networking.
To foster collaboration within CLINT and to facilitate cross-disciplinary research and training, CLINTiRTG offers a networking programme including the following elements:
Regular meetings of the researchers.
All trainees will be associated with the research group of at least one PI. The intense scientific exchange within this group provides an ideal format for a most detailed discussion of the project development, e.g. in small discussion groups, seminars series, group meetings, and/or literature seminars. Each young researcher will be also associated with the groups of CLINT collaborators. All researchers working on a specific topic shall meet at least every 6 months, while a more frequent regular communication between young investigators in collaborating laboratories ist strongly encouraged.
The CLINT colloquium (during the semester time).
It will serve as a platform to disseminate CLINT research results (by CLINT members, including doctoral and postdoctoral researchers) and aims for new international collaborations (invited guests). Besides giving their talk, external experts will meet and discuss with CLINTiRTG trainees.
The guests will be proposed by the CLINT young researchers.
Winter school.
The progress of CLINT will be reviewed at the annual winter schools. A programme for CLINTiRTG members will include competence courses, as mentioned previously.
Moreover, the retreat is used for the final selection of the CLINT Best Paper Award and CLINT Outreach Award. The attendance is mandatory for CLINTiRTG trainees.
External networking.
To enable appropriate dissemination of research results and to promote CLINT as a DFG initiative, several activities are planned that involve the CLINTiRTG:
'Women in Catalysis' Conference
The 'Women in Catalysis' Conference will be held at the end of the third year of CLINT. It will be organised in collaboration with the CLINT Equal Opportunities Team to promote female role models in the CLINT research field. Besides an excellent scientific programme, the conference will include an open discussion on equal opportunity issues. Selected CLINTiRTG trainees will participate in the organisation of the event, the attendance of all trainees is compulsory.
CLINT International Symposium
The CLINT International Symposium will be held every two years, and it will be co-organised by CLINTiRTG. Based on their accomplishments, CLINT trainees will be given the opportunity to present their results as oral presentations or in form of posters. A best poster award will be granted by an international committee. Attendance of all CLINTiRTG trainees is compulsory.
Visits to international conferences and to international fairs.
The CLINTiRTG trainees will receive support for presenting their work at relevant conferences and fairs upon short application to the CLINTiRG Management and based on a gender balanced and inclusive selection process.
External expertise programme.
Following a competitive selection process based on short proposals of trainees, CLINTiRTG will enable stays in a partner laboratory abroad for several months. Visits to groups led by female scientists are particularly encouraged.